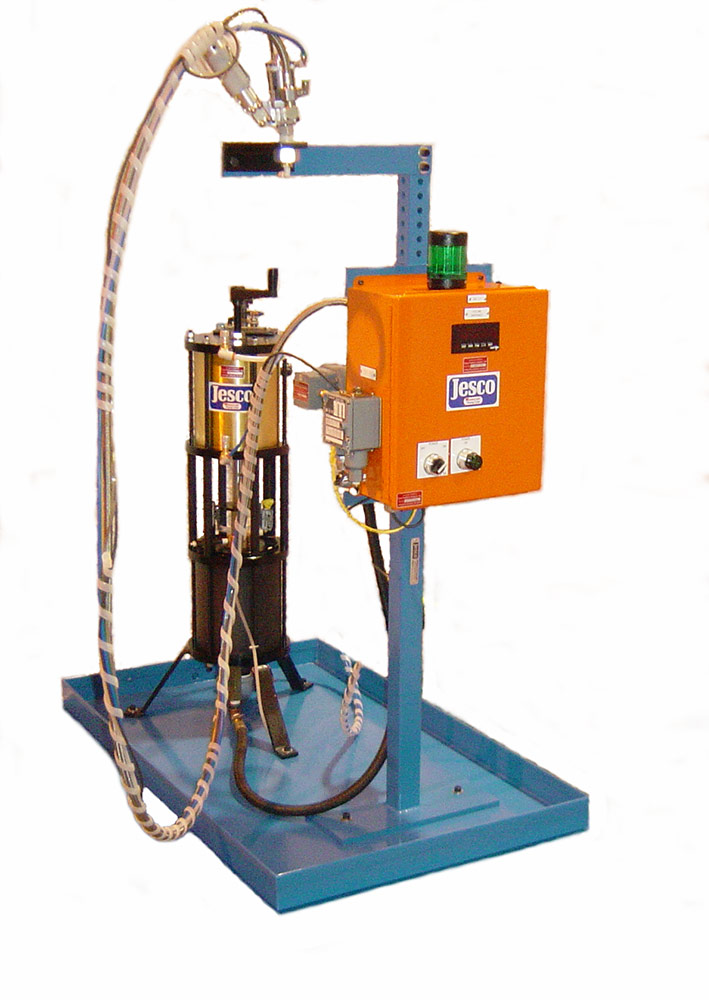 The Jesco LP Series Fluid dispensers are air driven, single acting, adjustable stroke, positive displacement piston metering dispensers, specifically designed for metering precise shots of material. They are available in a multitude of sizes to fulfill nearly any requirement. Jesco LP Series dispensers are available to meter quantities as small as 1/10 cc to as large as 1 US Gallon per stroke and everything in between.
LP Series dispensers can meter material directly from 1, 2, 5 & 55 gallon containers. Various suction feed attachments, drum or pail top and bung hole mounts are available. LP units can also be gravity fed from larger tanks or totes.
A multitude of options are available for the LP Series Dispensers to customize their use for any given application. Options such as:
Air and Electric Control Packages to control the unit and interface it with automation.
Optional materials of construction for material compatibility (SS, Brass, Plastic).
Optional Seal Compounds for material compatibility.
Various Applicator Valves for remote dispensing.
End of Stroke and Top of Stroke detection.
Steel, SS or Plastic Supply Containers and covers.
Agitators, Heaters and Pail Warmers.
The following is a table of basic models.
File could not be opened. Check the file's permissions to make sure it's readable by your server.
Note:  Power Ratio is the Ratio of Theoretical Fluid Pressure Obtained over Air Pressure Applied.
The N-2190 Series Metering Stations can be used to dispense accurate and repeatable shots of low viscosity pourable fluids. These Metering Stations are ideal for use in Automotive Fluid Fill Systems for dispensing fluids such as Water-Methanol, Anti-Freeze, Trans-Axle fluids, etc. Please see the Industrial Fluid Fill and Lubricating Systems section.
The N-2190 Series Metering Stations are basically comprised of 2 Positive Piston Displacement, Double Acting Metering Cylinders, Directional Control Valves, an Applicator Valve and whip hose. The Metering Cylinders can be provided with End of Stroke Indicators with or without proximity switches, limit switches or limit valves. Electric or Pneumatic control panels can be provided to control all dispensing functions as appropriate for the application and operating environment.
The Double Acting Metering Cylinders are constructed of materials that are corrosion resistant and compatible with the fluid being dispensed. They are available in several different sizes, with maximum capacities per stroke such as 40, 60 and 76 US fl. Oz. and each one has an externally accessible adjustable output. Depending on the specific model, the Metering Cylinders can dispense fluids at pressures from 750 to 1700 psi.
The N-2190 Series Metering Stations are unique and compact dispensers. They require no electric, pneumatic or hydraulic power packages to actuate the Metering Cylinders. The Meters are powered by the fluid pressure supplied to them. Depending on the characteristics of the material being dispensed, in many applications this can be done efficiently and cost effectively with a standard 1:1 ratio diaphragm supply pump.
The twin Metering Cylinders of N-2190 Series Metering Stations can be utilized in several different fashions to suit the requirements of nearly any application. Each Metering Cylinder can be adjusted to a different shot size and selected from a 2 trigger Applicator Gun (as shown in the photo above) in applications requiring 2 preset volumes to be dispensed from 1 gun. One Metering Cylinder can be used as an Online Backup to the other that can be instantly selected when required. With the addition of another applicator valve and whip hose, each metering cylinder can dispense a different grade of fluid (oil) from 1 machine. For applications requiring very large fill volumes, both Metering Cylinders can be made to dispense in tandem to virtually double the capacity of the system.
For more information on the N-2190 Series Metering Stations or complete Fluid Fill Systems for your application, contact Jesco for details.
Windshield Washer Fluid Dispensing Systems
The Jesco N-2170 Series Windshield Washer Fluid Dispensing Systems are complete meter, mix and dispense packages that proportion and mix water and methanol at an adjustable ratio. The systems also provide a means to dispense preset volumes of the mixture directly into vehicle reservoirs on automotive assembly lines.
The N-2170 Series Systems are comprised of the following key components:
300 Gallon Methanol Holding Tank with platform and flame arrestor.
Strainer and Regulator for city water supply.
2 Sets of Adjustable Ratio Proportioning Pumps. One set is an online back-up to the other
Each set of proportioning pumps is capable of volumetric ratios from 30:70 to 60:40 Methanol to Water.
Calibration Chambers for verifying the actual volumetric ratio output of the proportioning pumps.
60 Gallon Mixing Tank with mixer, start / stop fill control and High and Low level alarms.
(2) 2:1 ratio Stub Pumps or (2) 1:1 ratio Diaphragm Pumps are provided to supply the mixture to the metering stations. One pump is an online back-up to the other.
2 Dual Metering Stations, each with a dual trigger Fill Gun. One metering station is an online back-up to the other. See N-2190 Series Metering Stations section.
Each metering station has 2 double acting Metering Cylinders that are sized for the application. Each of the cylinders outputs is individually adjustable.
The dual trigger gun, together with the dual metering cylinders, allow 2 preset and repeatable volumes of mix to be dispensed from the same gun.
The entire system is pneumatically powered and controlled with an air logic control panel. This provides a cost effective means to control the equipment which is normally classified to be in a hazardous environment.
All hoses, tubing, pipe, drip pans and other ancillary equipment are provided with the system to provide our customer with a complete package.
Jesco has many other types of filling systems. Some are suited for premixed bulk supply fluids.
For more information, contact Jesco today.
Merpol Fluid Dispensing Systems
As part of the process of installing engines into vehicles on an automotive assembly line, Water – Merpol solution is applied to the inner end of rubber hoses to facilitate the installation. The process of proportioning, mixing and dispensing the mixture was a time consuming, messy and inconsistent manual process. Jesco was contacted for a solution.
The N-2600 Series Merpol Fluid Dispensing System was designed and built to solve the problem. It metered, mixed and dispensed 64 US fl. oz. shots of fluids at a volumetric ratio of 200:1 parts Water to Merpol. Both the output and ratio were adjustable.
The N-2600 Series Dispensing System is a complete package that utilizes a Jesco double acting adjustable output metering cylinder to meter the water. The Merpol is metered with an adjustable output Cycle-Matic dispenser. The output from both meters is fed to a pressure pot and mixed there with a lid mounted air powered agitator. After dispensing 4 shots into the pressure pot, 1/2 gallon shots of solution are dispensed into a customer supplied container with every cycle thereafter. The entire system is controlled with an air logic control panel, complete with cycle counter to keep track of the dispense cycles performed. The system includes a small machine base to which everything is mounted and also includes a drip tray and spill containment means in case of accidental overflows. The system also includes a convenient means to perform ratio checks.
Do you have an industrial fluid fill application that you need help with? Call Jesco! We can help.
The N-5005 Series Oil Filling Systems are complete dispensing packages originally designed and built to fill front wheel drive vehicle differentials with the exact amount of oil required. These systems are adaptable to many other fluid filling applications.
Each N-5005 System includes:
A Jesco LP128 Series Fluid Dispenser to meter the correct amount of oil.
An in-line flow meter to monitor and confirm that the proper amount was dispensed.
An applicator gun with ergonomically designed handle for the application.
Sensors to detect Nozzle Engaged, Shot Complete, Meter Full, etc.
Controls to display the actual volume of fluid dispensed, communicate the actual volume dispensed to a supervisory controller, indicate Fill Cycle Complete and Fill Level OK to the operator, etc…
Drip tray to contain spills / leaks.
Tote oil supply hook-up package.
For more information on the LP128 Fluid Dispenser, see the LP Series Liquid Dispensers section above.
For more information on this system and other Fill Systems we have to offer, contact us.