Generic "ISO" mount air valve. International standard compliance.
Divorced design air motor circuit.
6″ pump stroke.
Oversized elevator piston rods.
Cast follower plate has full flow intake.
Hardened and ground pump components.
Choice of "state of the art" main seal types and seal compounds.
Modular interchangeability of air motors, foot-valves, elevators and follower plates.
Accepts Ross, Mac, Numatics, Herion, or any other customer preferred ISO mount air valve.
Full range control – positive air motor shifting. Air motor reciprocates reliably at any regulated air pressure.
Greater pump efficiency.
No binding / smooth operation.
Greater volumetric pump efficiency.
Maximum reliability with minimum maintenance.
Choice of seal types and compounds to fit the pump to any application.
Conversion flexibility. Minimizes spare parts required for several different types of pumps.
The Mastercraft Pump Line is a complete and extensive line of air powered supply pumps designed and built by Jesco for transferring or delivering virtually any industrial fluid. Mastercraft Pumps are designed for maximum pumping efficiency, with minimal maintenance requirements and are sold at a very competitive price. The Mastercraft Pump Line allows Jesco to provide its customers with complete dispensing packages, from pumps, to dispenser, to gun.
Jesco has incorporated several important features into the design of all of the pumps in the Mastercraft Pump Line.
See the following sections for a description of the various types of Mastercraft pumps available.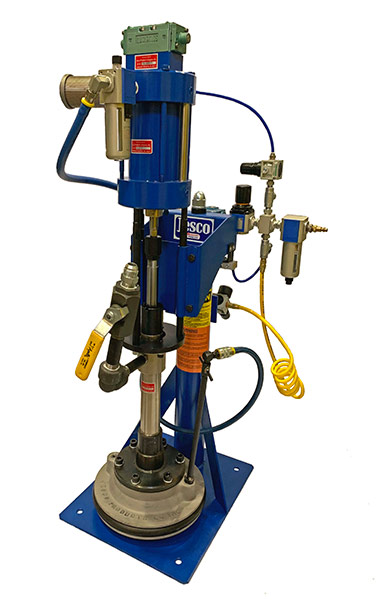 Transfer Pumps - Fluid Transfer Pumps
The PS Series Pail Pump is designed to deliver thick, medium viscosity paste materials directly from 5 gallon pails. The PC and PB Series Pail
Read More »