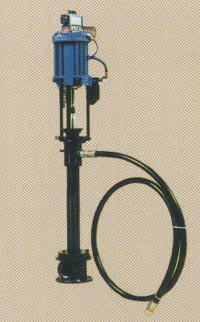 The GF Series pumps are capable of pumping virtually any low to medium viscosity material that can be gravity fed. They can also be used as booster pumps where materials must be pumped over very long distances. These floor flange mounted pumps have 3" NPT inlets and 1 1/4" NPT outlets that make them well adapted to pumping gravity fed materials from drums, totes or tanks.
GF Series: Gravity feed, floor flange mounted pump with double action, "double ball" foot-valve.
The chart below tabulates information on the various basic models available within the GF Series of pumps. Choose from the following 3 basic models to suit your material and pumping requirements.
A multitude of options are available for each one of the basic models of GF Series pumps. Options such as main air valve brand, pump main seal type, special metals / materials of construction, special platings, high output option for 10" air motor pump, etc., are all options available for Jesco Mastercraft pumps. Contact Jesco for details.