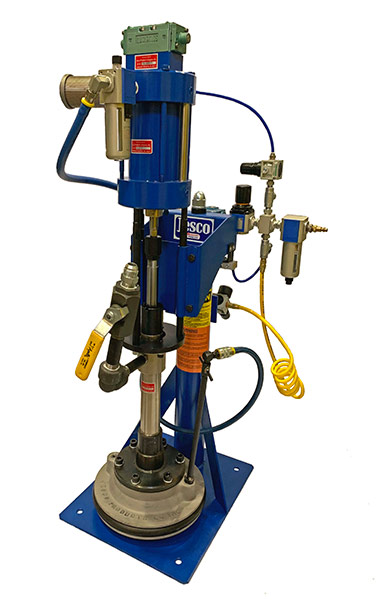 The PS Series Pail Pump is designed to deliver thick, medium viscosity paste materials directly from 5 gallon pails. The PC and PB Series Pail Pumps are capable of delivering low to medium viscosity "level-seeking" materials directly from open top or closed top 5 gallon pails. Choose a model from the following 3 series of pail pumps to suit your material and pumping requirements.
PS Series: Pail pump with 5 gallon follower plate. Double action, "chop-ball" pump with single ram elevator.
PC Series: Pail cover pump with double action, "double ball" foot-valve and pail cover.
PB Series: Bung hole pail pump with double action, "double ball" foot-valve and bung hole adapter.
The chart below tabulates information on the various basic pump models available. A multitude of options are available for all the basic models of PS, PC and PB Series Pail Pumps. Options such as pump lifts and pump carts for PC and PB Series pumps, portability wheel kits, follower seal type for PS Series pump, main air valve brand, pump main seal type, special metals / materials of construction, special platings, etc., are all options available for Jesco Mastercraft pumps. Contact Jesco for details.