Lab and Prototype Dispensers
N-210 and N-211 Series Hand Crank Dispensers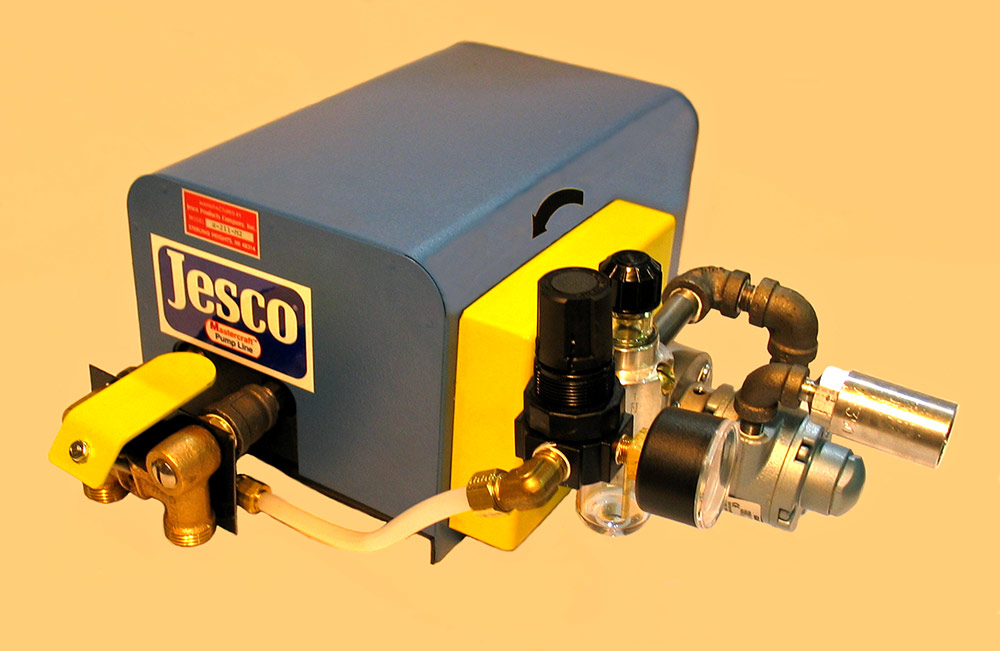 The Jesco N-210 and N-211 Series Hand Crank Dispensers are designed to deliver batches of 2 component materials at a predetermined ratio into a mixing cup for hand mixing. These dispensers are ideal for plastic tool or mold shops or material manufacturer's labs or any other application where production rates are low or mixture work life is short and does not warrant automatic meter, mix and dispense equipment.
These dispensers are easy to operate, easy to maintain and will dispense a wide variety of materials with minimal required maintenance. They include 2 proportioning gear pumps that are appropriately sized and geared to each other to deliver the 2 materials at the proper volumetric ratio. To operate the dispenser, just place a container under the outlets, open the "duo-cloz" valve and turn the crank until the required amount of material is dispensed.
Some of the Jesco N-210 and N-211 Series Hand Crank Dispenser features are as follows:
Low cost
Eliminates measuring
Easy to operate
Compact
Can dispense level seeking, non-abrasive materials up to 75,000 cP
Air motor powered versions of the N-210 and N-211 Series Dispensers are available as models N-210M and N-211M. The N-211 and N-211M models include a gravity feed system for the materials which consists of two 5 gallon supply containers with inlet plumbing.
N-5130 Series Bench Top Dispenser
The The Jesco Model N-5130 Series Bench Top Dispenser is a small, compact, two component dispenser for metering, mixing and dispensing non-corrosive, non-abrasive, level seeking materials, including epoxies, acrylics, urethanes and polysulphides. Perfect for use in labs, mold shops and prototype development.
N-5130 Key Features:
Small benchtop design. Dispenser requires only 12"x 22" area.
Tee slotted base for easy ratio change.
High quality adjustable speed TEFC AC gearmotor for adjustable flow.
Heavy Duty cycloidal gear reducer for long life and zero maintenance.
Positive displacement gear pumps with hardened steel gears and shafts.
Volumetric Ratios available from 1:1 to 10:1 easily changed through pump size and gear size selection.
Up to 2700 cc/min (165 in_/min) mixed material delivery rate at 1:1 ratio on low viscosity fluids.
Low power requirements. Uses standard 120VAC, 1Ø power and requires less than 2 SCFM compressed air supply.
Dispense cycle initiated with electrical footswitch.
Nema 12 rated control panel includes VFD drive for gearmotor, power on / off controls and clear lexan window over drive indicator panel.
Includes 2 component air operated mix gun with disposable static mixer.
Includes simple ratio check provision at the mix gun.
DPS mounted pressure gauge on each fluid stream.
Pressure relief valve on each fluid stream to protect the pumps from blockages.
5 gallon gravity feed system available. Add "-GF" suffix to Model number.
Optional work bench available. Add "-WB" suffix to Model number.