Model 600 Series Double Acting Poly-Matic Dispensers
The Jesco Model 600 Series Poly-Matic Dispensers are pneumatically powered, fixed ratio, double acting, positive piston displacement metering systems. They can meter, mix and dispense low viscosity / level seeking materials that are gravity fed to their inlet ports.
Model 600 Series Poly-Matic Dispensers can provide a continuous flow of mixed material upon command. They include 2 double acting metering cylinders that are sized for the volumetric ratio required. Both meters are reciprocated together by a common automatically reversing air cylinder.
Model 600 Series Poly-Matic Dispensers are available in 2 basic versions. The Model 601 Series units are designed for use with static mixers, whereas the Model 602 Series units utilize dynamic mixers.
All Model 600 Series Poly-Matic Dispensers can be configured with a volumetric ratio in the range of 1:1 to 20:1. Standard Model 600 Series Poly-Matic Dispensers can deliver up to 17.7 in3 of material per cycle at a 1:1 volumetric ratio with an 11.1:1 power ratio. High Output versions of the Model 600 Series Poly-Matic Dispensers are also available. These "HO" units can deliver up to 39.7 in3 of material per cycle at a 1:1 volumetric ratio with a 12.6:1 power ratio.
Many options are available to customize the features of Model 600 Series Dispensers to suit the requirements of a specific application. Some of the options available to the Model 600 Series Dispensers are as follows:
Two Component Mix Guns
Various sizes, lengths and types of static mixers for the Model 601 Series units, including plastic disposable static mixers and mixer shrouds
Time Lapse Warning Controls
Automatic Mixed Material Purge Controls
Mixer Solvent Flush Packages
Various Material Feed Systems, including gravity feed totes, pressure pots, etc.
Special meter provisions for dispensing heavier, low pressure fed materials
Contact Jesco for further details.
N-3300 & N-4600 Series NVH Foam Dispensers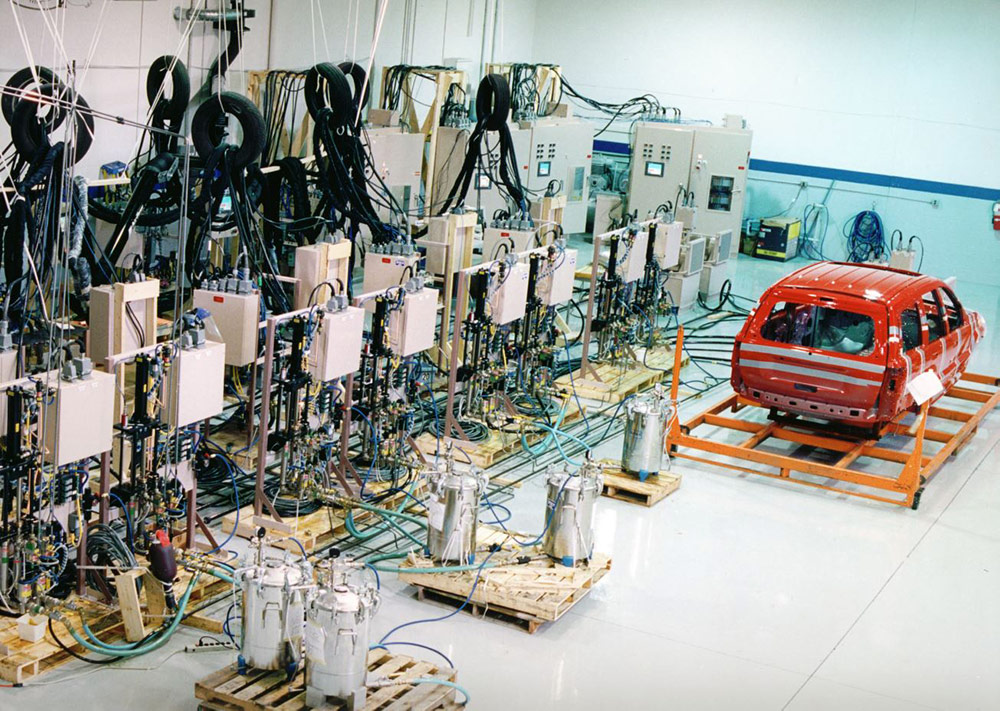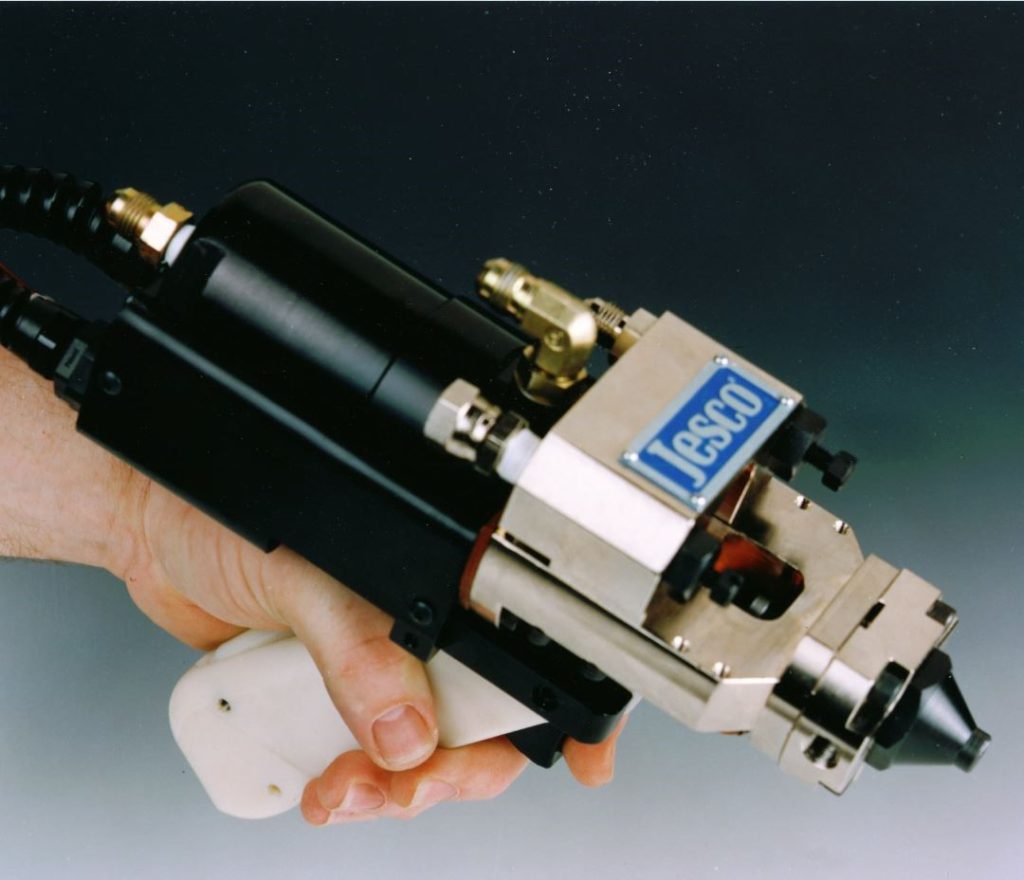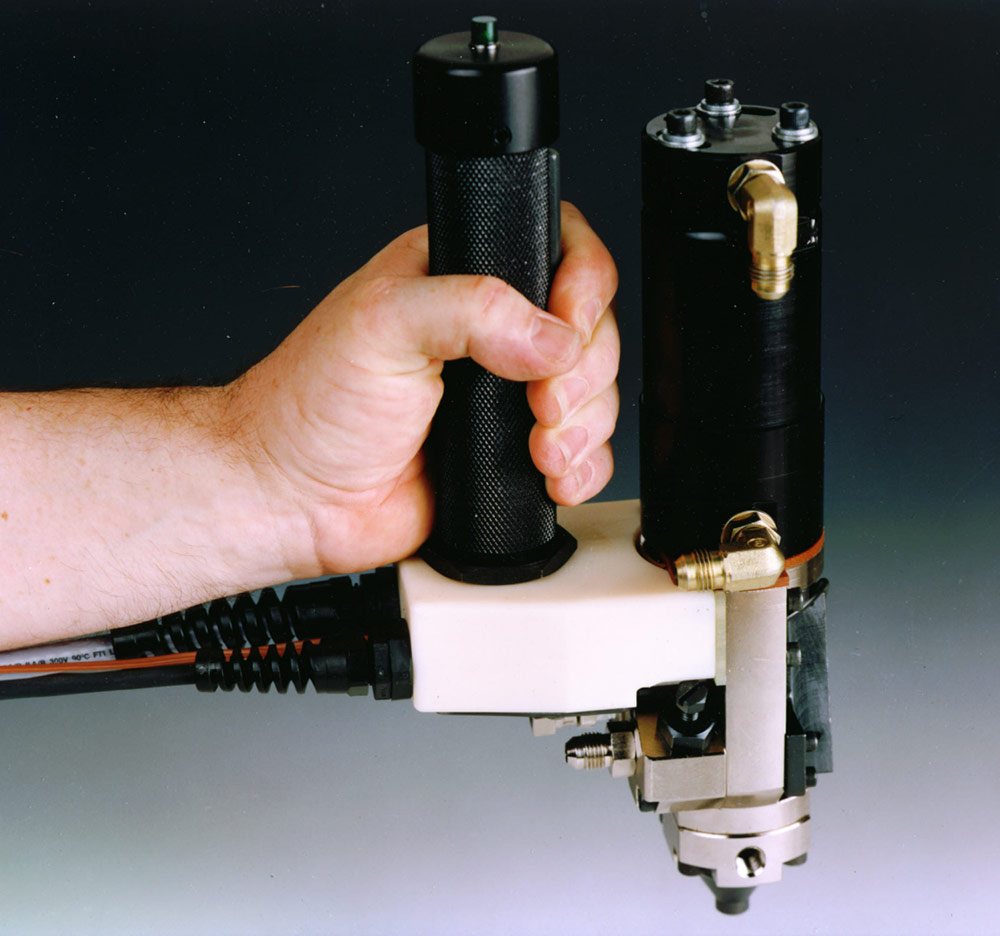 N-3300 & N-4600 Series NVH Foam Dispensers
The N-3300 and N-4600 Series Foam Dispensers have the following common features:
Positive displacement, single acting, fixed ratio lance piston meters ensure on ratio proportioning and accurate shot delivery. Meter capacities are sized for production requirements.
Power flow valves for both the inlet and outlet of each meter ensure that fluids are displaced to the gun accurately and on ratio.
Metering Unit is hydraulically powered with electronically adjustable constant flow rate technology. This provides a powerful and robust drive package that maintains material flow rates even against variable loads. Time required to dispense a shot is always repeatable.
Closed loop feedback control of metering unit provides a very high degree of shot size consistency.
Flush sensing, high accuracy pressure transducers are used to monitor and control material pressures at all times to ensure a stable process.
Common dual circuit Hydraulic Power Unit provides all the power for both the Metering Unit and Impingement Mix Gun. This helps conserve floor space and reduces equipment costs.
Impingement Mix Gun is hydraulically powered to minimize weight and size as well as to maximize operating power and reliability of gun.
Impingement Mix Gun includes:
–Hardened and precision lapped Tool Steel mix head components for reliably good mix and long service life with minimum maintenance.
–Choice of pistol grip or parallel handle trigger designs for optimized ergonomic manual applications.
–Heated gun maintains temperature during idle periods, thus requires no test shots when production resumes.
–Gun Open and Closed position sensors for proper sequencing with dispenser controls.
–Quick disconnects on all cables for ease of service.
Entire system is heated as required from supply source to dispense tip and controlled using PID temperature controllers for each heated zone. Primary heated zone utilizes fluid heaters and probe type sensors inserted into the fluid stream for high heating capacity and precise temperature control.
Each heated zone includes a redundant over-temperature controller complete with its own separate temperature sensor for safety backup.
Heated Hose Bundle connects the dispenser to the gun and is available in lengths to suit the application. Designed to minimize size and weight of the assembly in order to maximize flexibility and ergonomics, yet is built with components rated for continuous flexing in order to maximize reliability and minimize maintenance required.
One Heated Hose Bundle and Gun per system is standard. A Dual Gun (DG) option is available for manual dispensing applications. This option provides online hot backup capability.
Nema 12 rated PLC Control Panel built to "generic automotive" (JIC) standards controls all dispenser functions. Allen-Bradley SLC 500 Series PLC is standard. Other PLC's and custom panel designs available upon request.
Door mounted 10 1/2" Quickpanel Color TFT Touchscreen is provided for HMI / MMI functionality. The Touchscreen is also utilized for password protected access to adjustable parameters such as Shot Setups, Sequence Setups, etc. An optional Remote Operator Station (ROS) is available. Other brands and types of touchscreens available upon request.
16 programmable shot sizes are available as standard. Additional programmable shot sizes available upon request.
4 programmable 12 step sequences are available as standard. More and / or longer programmable sequences are available upon request.
The N-3300 and N-4600 Series Foam Dispensers are available with many other optional features and hardware packages that facilitates their integration into a foam dispensing cell. Features such as:
Tool Tip Cleaners for cleaning the gun dispense tip.
Hose Management Systems for suspending and retrieving the Heated Hose Bundles improves the ergonomics of a manual application as well as extends the life of the bundle through proper routing and retrieving of hoses in a manual or automated application. Also provides a safety feature to stop the conveyor if the hose is entangled with a moving body.
Material Supply Packages such as; totes, pumps, pressure pots, etc., for supplying the materials to the dispensers.
Networking / interfacing the dispensers to other controllers such as; robots, cell controllers, automatic vehicle identification systems, process verification systems, factory information systems, etc., through many types of interfaces and networks such as; discrete I/O, Remote I/O, Data Highway Plus, DeviceNet, ControlNet, Ethernet, etc..
For more information, contact Jesco today.