N-2290 Series Electric Drive Dispensers

The N-2290 Series dispensers are 2 Component, Positive Displacement, Lance type Piston Metering units. Powered by a large DC Servo Motor and Ball-Screw Actuator, this series of dispensers are also Constant Flow Rate types, due to the Closed Loop Velocity Control of the Metering Unit.
Originally developed for dispensing precise beads of structural adhesive in a manufacturing process for Cruise Missiles, this series of dispensers has also been used to precisely and reliably fill cavities in Air Bag Crash Sensors.
PLC controlled and with an extensive Robot interface that communicates important process information and equipment status to a Supervisory controller, this series of dispensers is especially suited for precision work at high duty cycles.
The N-2290 Series dispensers can meter, mix and dispense virtually any 2 part pump fed material, from low viscosity pourable fluids, to viscous pastes as high as 3 McP and at pressures up to 3000 psi. Depending on the meters selected, these fixed ratio dispensers can have rather large capacities. Due to their long 10" stroke, at a 1:1 volumetric ratio, a maximum output per stroke of 48.1 in3 is available. Volumetric Ratios of 1:1 up to 22:1 are attainable through selection of various sized metering cylinders.
The N-2290 Series dispensers utilize Jesco Roto-Stat High Shear Dynamic Mixers to provide consistent and uniform mixed material. They are available in 3 different sizes and in 1 or 2 port inlet versions to suit the individual requirements of an application. For very difficult to mix epoxy chemistries, the N-2530 Series Roto-Stat mixer is available. This single port inlet, 3 fl. Oz. capacity mixer has a "Pre-mix" static mixer element at the inlet of the mixer chamber. It also has a "Profiled" inner mix chamber design that virtually guarantees complete mix with no striations on even the most difficult to mix epoxy chemistries dispensed at delivery rates as high as 25 cc per second.
The N-2290 Series dispensers include a PLC control panel that provides a full complement of Manual as well as Automatic control functions. Functions such as Timed Shot, Time Lapse Warning, Auto Mixed Material Purge, Auto Flush, etc. are all standard functions and can be adjusted to meet individual applications.
Several versions of the N-2290 Series dispensers are available. Some have Volume and Flow Rate Indicators. Others have Dual Mixer Assemblies and some have Dual Applicator Guns. Contact Jesco for details. Chances are, we already have the feature you require for your application.
N-2400 Series Two Component Dispensers


The N-2400 Series dispensers are Miniature Fixed Ratio, Positive Displacement, Lance type Piston Metering units. They were specifically designed to meter, mix and dispense very small shots or beads of 2 component material. These systems were also designed to be Lightweight and Compact to facilitate their mounting to small Assembly Robots as can be seen in the accompanied photo. N-2400 Series dispensers have been used to dispense shots of 2 component epoxy as small as 0.037 cc and continuous beads as small as 2 mm diameter.
The N-2400 Series dispensers are capable of dispensing low to medium viscosity pump fed 2 component fluid and paste materials. They include a small air driven metering unit that has integrated outlet and standard inlet power operated flow valves.
The maximum output per stroke and the maximum dispensing pressure of the unit will be dependent on the volumetric ratio required. At a 1:1 volumetric ratio, N-2400 Series dispensers can be configured to have a maximum output of 1 in3 per stroke and a maximum dispensing pressure of 1100 psi with 80 psi air pressure supplied.
All N-2400 Series dispensers include flush sensing pressure transducers, one for each of the 2 metering cylinders. These transducers are monitored by the dispenser PLC controller at all times for proper operating conditions.
The N-2400 Series dispensers use a static mixer to provide consistent mix of the 2 component materials dispensed. To reliably dispense small consistent shots and provide clean cut off of material from the tip, the mixer is connected to a Jesco N-2420 Module Mount Applicator valve. This applicator valve is a miniature valve that readily accepts any of the commercially available Luer Lock needle tips.
All standard N-2400 Series dispensers include a PLC control panel that monitors and controls all dispenser functions. Available with an optional Remote Operator Station as pictured above, the control panel includes a dispenser interface to the Robot or other Supervisory controller. The dispenser controller also tracts how much mixed material is dispensed over time in order to ensure that the mixed material is fresh and not expiring / hardening. It provides Time Lapse Warnings and Auto Mixed Material Purges as appropriate, all with adjustable settings to suit the functions to the specific application.
N-2800 Series Cartridge Dispensers


The The N-2800 Series Dispensers were originally developed for robotic dispensing applications in the aerospace industry. They were designed to dispense pre-mixed 2 component Polysulfide material directly from prepackaged 32 fl. Oz. plastic cartridges. Today, these dispensers can be utilized to dispense nearly any viscous 1 or 2 part pre-packaged materials.
The N-2800 Series Cartridge Dispensers include a lightweight, electric servo motor driven metering unit that can be mounted to the arm of a robot. This allows the length of hose connecting the metering unit to the applicator gun to be minimized and thus provides for a more responsive system. The powerful brushless DC servo motor system powers the metering unit and provides repeatable flow rates of material that are proportionate to a robot analog command signal.
The N-2800 Series Dispensers include a "Quick Change" cartridge retainer that provides for the rapid replacement of a cartridge when it is empty. It also allows materials to be dispensed from a standard plastic cartridge at pressures up to 2000 psi without bursting.
The N-2800 Series Cartridge Dispensers include a Nema 12 rated "stand alone" control panel that is built to JIC standards. This control panel is used to monitor and control all dispenser functions and parameters. It also includes a complete robot and operator interface to the dispenser.
Various options are available for the N-2800 Series Cartridge Dispensers. Options such as a "Time Lapse Warning" package provide visual and audible indicators of the remaining work life of the mixed material being dispensed.
Other types of cartridge dispensers are also available from Jesco. Smaller capacities, Hydraulic drive, Air powered and N-3200-CD Series FACTS type cartridge dispensers are available. Contact Jesco for further details.
N-4820 Series Electric Drive Dispensers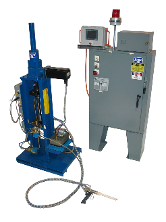 The N-4820 Series dispensers are fixed volumetric ratio, lance piston, positive displacement dispensers with analog flow rate capability through their automation / robot interface.
These Servo Electric powered dispensers were designed to dispense aggressive 2 Part sealers and adhesives, such as those used to bond Automotive sheet metal. They were specifically designed to provide long service life with minimal required maintenance while dispensing abrasive materials in high duty cycle applications.
When developing the N-4820 Series Dispensers, the prototype was "in-house" tested by Jesco at a simulated production rate of 128 JPH to 1 Million dispense cycles on an aggressive 2-part epoxy based material. This strenuous testing was done in an effort to optimize the selection and design of critical machine components and thus minimize the required maintenance and maximize the uptime of this line of equipment.
Each Jesco N-4820 Series Dispenser includes many standard equipment features and is basically comprised of the following key components:
Metering Unit
Controls
Two component Mix Gun
Some of the standard features and capabilities of the Metering Unit are as follows:
Heavy Duty Channel Frame assembly provides a robust framework.
High Efficiency Ball Screw Actuator.
Brushless AC Servo Motor.
Heavy Duty Guide Rod, Bearing and roller mounted Travel Arm.
Volumetric Dispensing Ratios from 1:1 to 10:1 are available by changing out one or both meter assemblies.
All system components rated for 3000 psi max operating material pressure.
Long stroke meters provide for a maximum volumetric output of 9.8 in3 / 160.9 cc (144.8 cc usable) per stroke at 4:1 ratio and allow multiple part processing per stroke.
Heavy Duty Travel Bar with self centering mechanism.
Precision, Flush Sensing Pressure Transducer in each meter assembly.
Meter Assemblies are easily accessed from either side of the Metering Unit and are 2 bolt flanged mounted.
Quick Change Packing design on Meter Assemblies.
Metering rods are power assisted / drawn back during the Refill Cycle.
Closed Wet Seal gland design with "Rod After-wipe" provision.
Circulating Wet Seal Lube Pump periodically flushes wet seal cavity.
Extensive use of heat treated steels and Hard Plating.
Extensive use of Tuff / Long Wearing and Chemically Compatible Seals.
The standard CS-745 Control Panel includes the following components and features:
Nema 12 rated Panel built to "generic automotive" (JIC) standards.
Allen-Bradley SLC 5/04 PLC for control of all Dispenser functions.
6" Color TFT Touchscreen for HMI / MMI functionality.
All field devices connected with DeviceNet.
All field devices (except servo motor) are connected with double ended quick disconnect cords.
Robot Interface is via DeviceNet Network.
AB Data Highway+ Network is available for programming and interface to a Supervisory Controller.
Brushless AC "Digital" Servo Drive.
Volume and Flow Rate Indicator with adjustable High and Low Limit alarms are provided.
Servo Torque Monitoring and display with adjustable High Limit alarm.
Password protected Adjustable Machine Parameters are accessible via the touchscreen.
Active and Historic Alarm Display Pages.
Virtual Last Part Limit Switch is provided.
Diagnostic Page and On-line Process Parameter Graphing Page.
Panel door mounted Remote Power and Programming Ports provided.
The standard Two Component Mix Gun has the following features:
Small, Compact and Lightweight Gun weighs only 3 lbs.
Quick and Convenient means of ratio checking.
Readily Accepts commercially available Plastic Disposable Mixers.
Marrying Adapter keeps the 2 material components totally separated.
Dual Reverse Acting Spool Valve design provides "draw-back" action when the gun closes.
Gun Air Cylinder Direct Drives both valving rods in tandem.
Wet Seal Gland provided behind both rod main seals.
Extensive use of Heat Treated steels and Hard Plating.
Extensive use of Tuff / Long Wearing and Chemically Compatible Seals.
3000 psi max fluid pressure rating. 3/8" NPT material inlet ports.
Various Ergonomic trigger handles available for Manual Dispensing.
The N-4820 Series Electric Drive dispensers have many optional features available. These optional features allow the dispenser to be customized to suit the special requirements of an application. Contact Jesco today for more information.