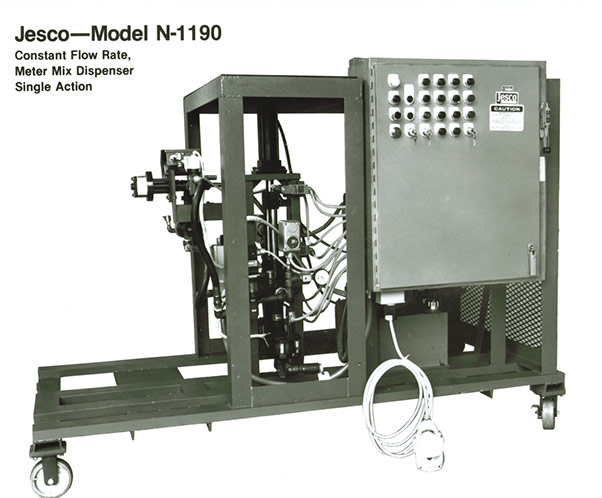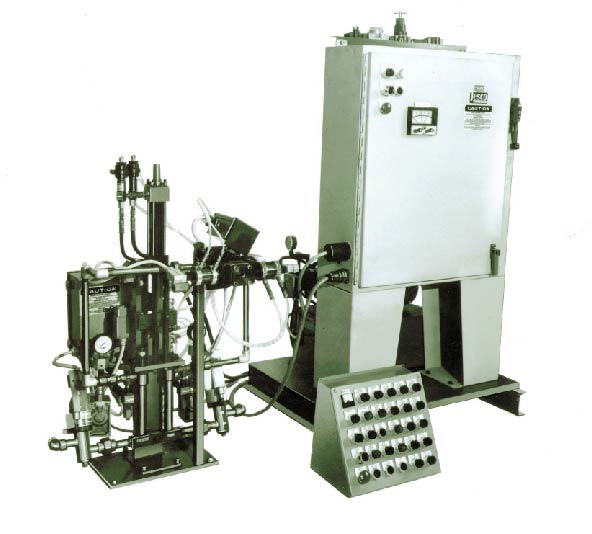 The N-1023, N-1190, N-1264, N-1277 and N-1375 Series units represent an extensive line of 2 Component, Positive Displacement, Lance type Piston Metering, Constant Flow Rate Dispensers. These dispensers were originally developed to meter, mix and dispense 2 part epoxies. As such, these units have unique features that enable them to perform the task very well.
Like the N-888-CM Series dispensers, these units are fixed ratio dispensers capable of dispensing viscous materials up to 3 McP and at pressures up to 3000 psi. They also include a Pressure and Temperature Compensated Hydraulic Drive Package that powers the metering cylinders and provides Constant Flow Rate Capability. The Power Flow Valves used as Meter Inlet and Outlet Valves to the metering cylinders are the same ones used on the N-888-CM Series dispensers. Both Series share many of the same options.
But unlike the N-888-CM Series, these dispensers are designed to meter, mix, and dispense materials at the lower end of the volumetric ratio range, from 1:1 to as high as 18:1 on some models.
These dispensers utilize 2 port versions of the Jesco Roto-Stat Air Powered High Shear Dynamic Mixer. They are available in 3 different sizes to suit the flow rate and mixing requirements of the application.
Many of the dispensers in this series include a Quick Change Packing Design which greatly facilitates the task of servicing the Meter Packings. By removing 3 bolts, the metering rod and packing set can be easily removed for service, without the need to dismount the entire metering cylinder or disrupt any plumbing to or from it.
As can be seen from the photos, many variations of these dispensers are available to suit nearly any application. They can be used in Manual Dispensing applications, or Fully Automated Dispensing Cells when interfaced to a Robot or other Supervisory Controller.
The various models available offer a wide range of output capacities and flow rate capabilities. Ask us about a chart that tabulates the maximum full stroke output for each model at a 1:1 ratio.