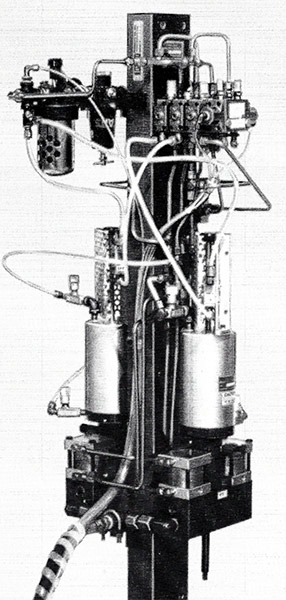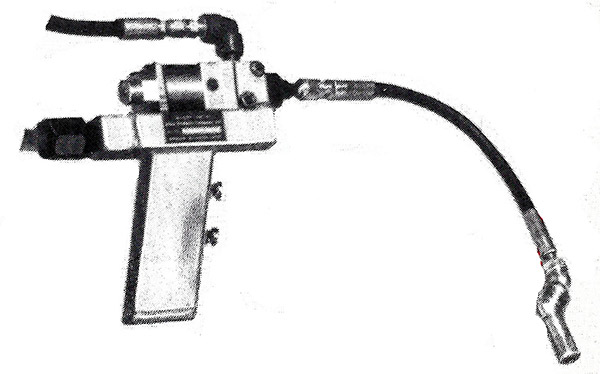 The N-2120 Series Dual Lube Dispensing Systems were originally developed to dispense repeatable shots of heavy grease for the process of lubricating undercarriage steering and suspension components in automotive vehicle final assembly areas. Since then, the N-2120 Series Systems have been used in many other applications where repeatable shots of medium to heavy viscosity pastes need to be dispensed.
Each N-2120 Series Dual Lube Dispensing System is comprised of 2 Jesco air operated Cycle-Matic dispensers mounted on a common compact frame. The 2 dispensers have a common supply port that gets connected to the material supply source (barrel or pail pump). An outlet port common to the 2 dispensers is connected to a dispense gun with an appropriate hose. The gun is provided with an ergonomic styled trigger handle appropriate for the application. The system also includes pneumatic controls to properly sequence the dispensers and control the operation of the gun.
N-2120 Series Dual Lube Dispensing Systems can be configured to operate in different ways to suit the application requirements. With a Dual Trigger Handle as pictured above, each Cycle-Matic dispenser can be adjusted to deliver a different shot size and selected to dispense with 1 of the 2 triggers. This feature of 2 instantaneously selectable pre-set shot sizes from one gun is a valuable feature in some applications.
In other applications requiring high production rates, the Cycle-Matic dispensers can be adjusted to the same shot size and configured to alternately dispense with every pull of a trigger. In this fashion, one dispenser dispenses the shot while the other is refilling. This makes the system capable of dispensing shots in rapid succession. Having 2 dispensers per system also provides a measure of online back-up to the process.
N-2120 Series Dual Lube Dispensing Systems typically utilize the Jesco N-1070 Series Cycle-Matic dispensers as metering units. Other metering units are available. These dispensers have adjustable mechanical stops that can be adjusted to deliver repeatable shots from 0.5 to 1.75 in3 in size. They are also available in 16:1 and 36:1 power ratios to suit the needs of the material being dispensed. Dispense and Refill rates are fully adjustable with pneumatic flow controls provided. Pneumatic limit valves are provided and utilized by the air logic controls to determine Refilled and Dispensed positions.
Contact Jesco for more information on this and other systems available for industrial lubricating applications.