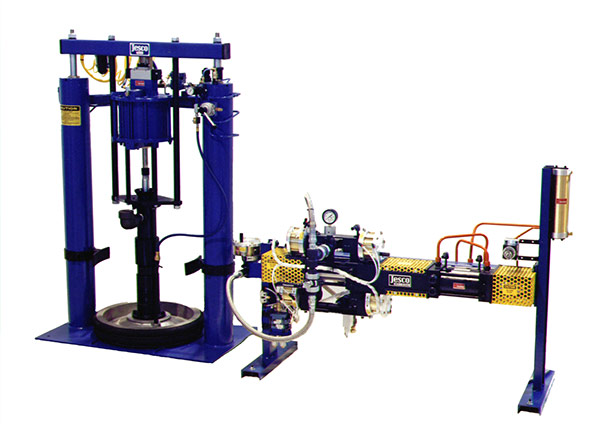 The N-2640 Series Hydra-Check Dispensers are unique Constant Flow Rate, Positive Piston Displacement, Double Acting metering units. They are used to dispense viscous fluids and pastes with viscosities as high as 3 McP and at pressures up to 3000 psi. They can provide a continuous and constant flow of material that is pressure and temperature compensated. What is unique about these dispensers is that they can do all of this without a hydraulic, electrical or pneumatic power package.
The N-2640 Series Hydra-Check Dispensers include a double acting metering unit that is powered by the fluid pressure of the material supplied to it by the supply pump(s). With supply pressure driving the reciprocating motion of the metering unit, a Heavy Duty Hydraulic cylinder coupled to the metering unit and provided with Pressure and Temperature Compensated Flow Controls provides adjustable but repeatable flow regulation. With the Hydra-Check system, pump stroke change-over surges and material viscosity changes that affect the flow can be eliminated.
The N-2640 Series Hydra-Check Dispensers have a large double acting metering unit with a capacity of nearly 30 in3 per stroke. This ensures low reciprocating rates, which in turn provides long service life. The metering unit utilizes Jesco's air operated Power Flow Valves for both the Inlet and Outlet Valves to the meter.
The N-2640 Series Hydra-Check Dispensers are systems that are simple to operate and maintain. They are entirely pneumatically controlled and require no more than a standard shop air service to operate.
Many optional features are available for the N-2640 Series Hydra-Check Dispensers. Contact Jesco for details.