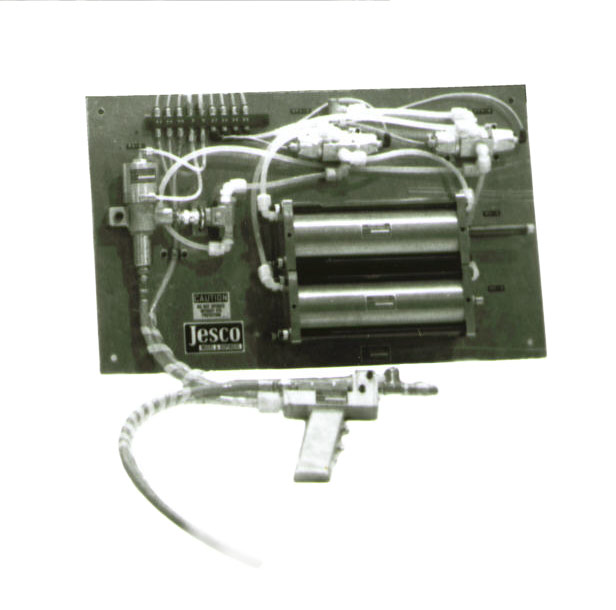 The N-2190 Series Metering Stations can be used to dispense accurate and repeatable shots of low viscosity pourable fluids. These Metering Stations are ideal for use in Automotive Fluid Fill Systems for dispensing fluids such as Water-Methanol, Anti-Freeze, Trans-Axle fluids, etc. Please see the Industrial Fluid Fill and Lubricating Systems section.
The N-2190 Series Metering Stations are basically comprised of 2 Positive Piston Displacement, Double Acting Metering Cylinders, Directional Control Valves, an Applicator Valve and whip hose. The Metering Cylinders can be provided with End of Stroke Indicators with or without proximity switches, limit switches or limit valves. Electric or Pneumatic control panels can be provided to control all dispensing functions as appropriate for the application and operating environment.
The Double Acting Metering Cylinders are constructed of materials that are corrosion resistant and compatible with the fluid being dispensed. They are available in several different sizes, with maximum capacities per stroke such as 40, 60 and 76 US fl. Oz. and each one has an externally accessible adjustable output. Depending on the specific model, the Metering Cylinders can dispense fluids at pressures from 750 to 1700 psi.
The N-2190 Series Metering Stations are unique and compact dispensers. They require no electric, pneumatic or hydraulic power packages to actuate the Metering Cylinders. The Meters are powered by the fluid pressure supplied to them. Depending on the characteristics of the material being dispensed, in many applications this can be done efficiently and cost effectively with a standard 1:1 ratio diaphragm supply pump.
The twin Metering Cylinders of N-2190 Series Metering Stations can be utilized in several different fashions to suit the requirements of nearly any application. Each Metering Cylinder can be adjusted to a different shot size and selected from a 2 trigger Applicator Gun (as shown in the photo above) in applications requiring 2 preset volumes to be dispensed from 1 gun. One Metering Cylinder can be used as an Online Backup to the other that can be instantly selected when required. With the addition of another applicator valve and whip hose, each metering cylinder can dispense a different grade of fluid (oil) from 1 machine. For applications requiring very large fill volumes, both Metering Cylinders can be made to dispense in tandem to virtually double the capacity of the system.
For more information on the N-2190 Series Metering Stations or complete Fluid Fill Systems for your application, contact Jesco for details.