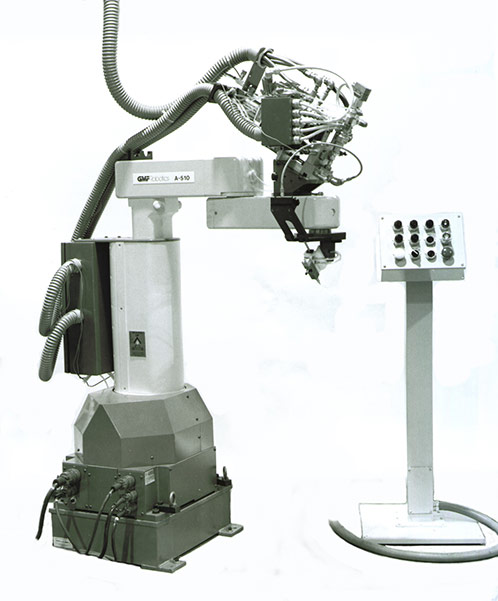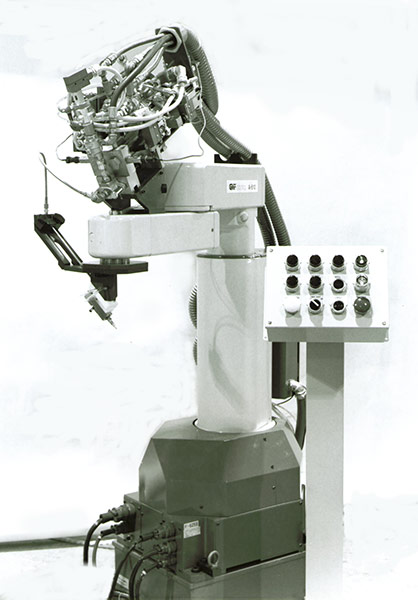 The N-2400 Series dispensers are Miniature Fixed Ratio, Positive Displacement, Lance type Piston Metering units. They were specifically designed to meter, mix and dispense very small shots or beads of 2 component material. These systems were also designed to be Lightweight and Compact to facilitate their mounting to small Assembly Robots as can be seen in the accompanied photo. N-2400 Series dispensers have been used to dispense shots of 2 component epoxy as small as 0.037 cc and continuous beads as small as 2 mm diameter.
The N-2400 Series dispensers are capable of dispensing low to medium viscosity pump fed 2 component fluid and paste materials. They include a small air driven metering unit that has integrated outlet and standard inlet power operated flow valves.
The maximum output per stroke and the maximum dispensing pressure of the unit will be dependent on the volumetric ratio required. At a 1:1 volumetric ratio, N-2400 Series dispensers can be configured to have a maximum output of 1 in3 per stroke and a maximum dispensing pressure of 1100 psi with 80 psi air pressure supplied.
All N-2400 Series dispensers include flush sensing pressure transducers, one for each of the 2 metering cylinders. These transducers are monitored by the dispenser PLC controller at all times for proper operating conditions.
The N-2400 Series dispensers use a static mixer to provide consistent mix of the 2 component materials dispensed. To reliably dispense small consistent shots and provide clean cut off of material from the tip, the mixer is connected to a Jesco N-2420 Module Mount Applicator valve. This applicator valve is a miniature valve that readily accepts any of the commercially available Luer Lock needle tips.
All standard N-2400 Series dispensers include a PLC control panel that monitors and controls all dispenser functions. Available with an optional Remote Operator Station as pictured above, the control panel includes a dispenser interface to the Robot or other Supervisory controller. The dispenser controller also tracts how much mixed material is dispensed over time in order to ensure that the mixed material is fresh and not expiring / hardening. It provides Time Lapse Warnings and Auto Mixed Material Purges as appropriate, all with adjustable settings to suit the functions to the specific application.